This post may contain affiliate links. Please read our disclosure policy.
A complete set of essential spices is one of the cornerstones of a well-stocked pantry. In my kitchen, I keep basic and Lebanese-specific spices. What is spice? Spices are intensely flavored dried plant parts- the bark, buds, fruit, roots, seeds, or stems.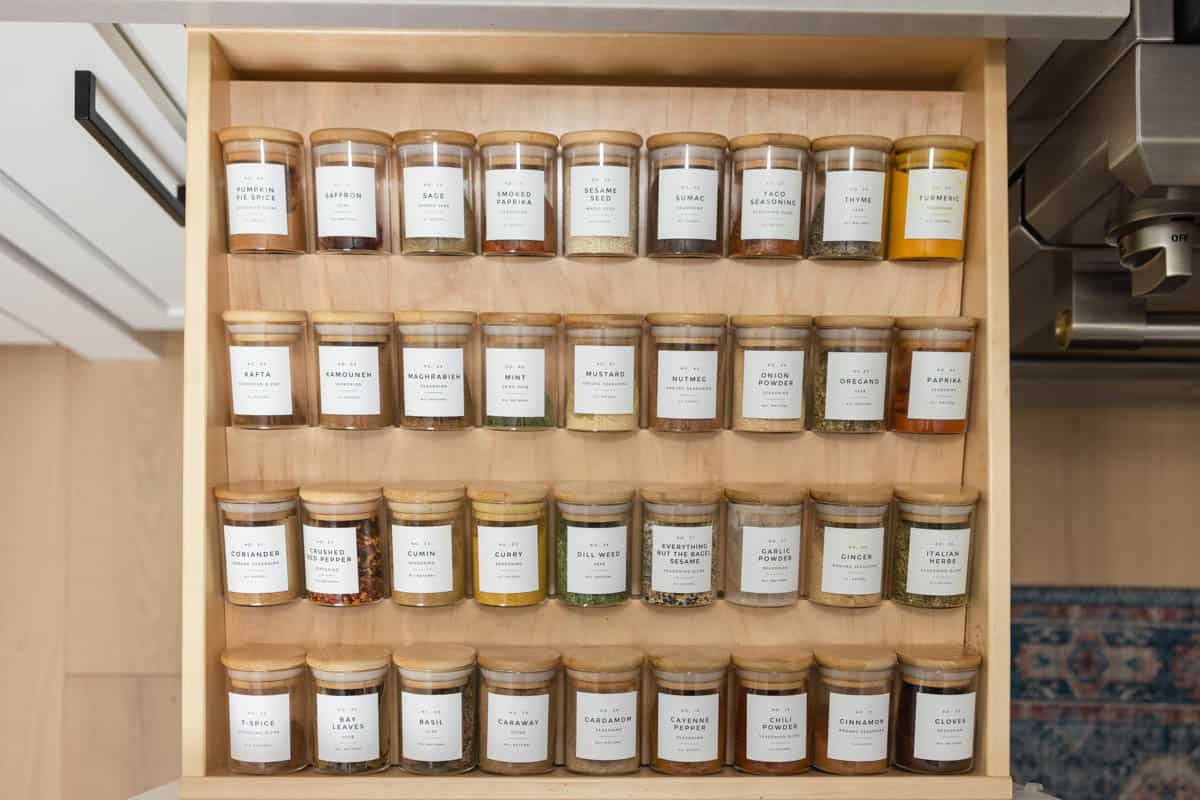 A solid selection of spices cuts down on unnecessary trips to the store when a recipe calls for, say turmeric, and will give you so much versatility in the kitchen. Think about plain scrambled eggs: go Mexican with a sprinkle of chipotle, cumin, and coriander or make them Lebanese style with zaatar.
How to decide what spices to buy
What kind of cook are you? What flavors do you really love? Stock the spice drawer for making all your standards and the dishes you want to try. You can't make it if you don't have it. Below are a few ideas to get you started
Baker: The basic baking spices are cinnamon, nutmeg, ginger, and cardamon. And of course, vanilla, which comes in liquid extract form, paste, and straight-up vanilla beans.
Chili lover: Buy chili powder or make your own by mixing chili powder from chipotle or ancho chilis, crushed red pepper, black pepper, cumin, coriander, oregano, garlic, and onion powder.
Hot sauce fan: Crushed red peppers are the crushed dried flakes and seeds of cayenne pepper with other hot peppers mixed in. Experiment with other pepper flakes from only one specific type of pepper like Aleppo pepper.
Francophile: French (and Italian) cuisine relies heavily on herbs like basil, oregano, thyme and rosemary, but definitely stock black peppercorns, cinnamon and nutmeg (used in sweet and savory applications).
Mexican kitchen: Various chili powders like ancho or chipotle (or dried whole chilis,) achiote, anise, cloves, cumin, cinnamon, and vanilla.
Autumn latte lover: Mix ground cinnamon, nutmeg, and clove for your own pumpkin spice flavor.
Whole versus ground spices
Ground spices are convenient and quick
However, many recommend replacing ground spices every six months or at least once a year, which gets pricey
Whole spices last longer (up to three years) and taste fresher because their flavor is released upon grinding.
But whole spices are more time consuming because you have to grind them. And many recipes also suggest toasting them.
In addition to time, whole spices require the means to grind, like a mortar and pestle or designated small coffee/spice grinder. Cinnamon sticks and nutmeg can be powderized on a Microplane.
Since black pepper goes in almost everything, and the fresh ground is really wonderful, a pepper grinder is a worthwhile investment for a starter kitchen.
My essential cooking spices
Below are my 30 favorite essential spices that I have in my spice drawer. If you're just starting out….I recommend these 10 basic spices bolded below:
7 Spice
Basil
Bay leaves
Cardamom
Cayenne pepper
Chili powder
Cinnamon
Coriander
Cumin (My favorite spice of all time!)
Crushed red pepper
Curry
Dill
Everything but the bagel
Garlic powder
Ginger (ground)
Italian seasoning
Mint
Mustard powder
Nutmeg
Onion powder
Oregano
Paprika
Pumpkin Pie Spice
Sage
Smoked Paprika
Sumac
Taco seasoning
Thyme
Turmeric
Zaatar
My 12 favorite Lebanese cooking spices
Some of these are also included above, but with the below spices you can make any of my Lebanese recipes.
7 Spice
Caraway
Cardamom
Cinnamon
Cloves (Ground)
Coriander (Ground)
Crushed Mint
Cumin
Paprika
Sumac
Turmeric
Zaatar
How to store cooking spices
Find a cool, dark, dry place. For the longest life, store spices in a drawer or shelf that meets all three of these requirements.
Not in the fridge: Extending the life of your expensive spices in the fridge might seem obvious but the humidity is not necessarily a good thing and could cause mold.
Really, hold the heat. Avoid storing spices in racks or drawers so close to the range that they will get hot from cooking heat or absorb moisture from boiling liquids.
Use tightly lidded jars: Keep out pests and humidity and ensure freshness.
Frequently asked questions
Spices are so expensive. How can I save money?
Sticker shock in the supermarket spice aisle is real. But luckily shopping online spice companies and your local Indian, Asian, or Latin markets can be more affordable. Cost Plus World Market and Trader Joe's are good, too. If you buy spices in bulk or in cellophane bags, purchase your own jars or recycle supermarket empties
Will expired spices make me sick?
No, but the strength of spices diminishes over time, so old ones won't be doing their job and your food will miss out on maximum flavor. Buy small amounts of spice and replenish often.
For more cooking resources:
Spices make or break recipes. The right one can make a dish taste like home – or your favorite restaurant order – instead of a disappointing imposter. Stock your essential spices today.
If you find this post on my Spice Drawer Essentials useful, we'd love to hear from you! And if you snapped some shots of your spice drawer and your must have spices, please share it with me on Instagram so I can repost on my stories!