This post may contain affiliate links. Please read our disclosure policy.
Here are easy six ways to use veggie scraps. Do you automatically chuck veggie scraps into the trash? Eat them instead! Making room on your plate for things like celery leaves, carrot tops, broccoli stalks, and potato peelings, stretches your food dollar and helps the environment by reducing waste.
Common veggie scraps include
Peels from vegetables: skin from onions, garlic, potatoes, carrots, cucumbers, beets, and squash.
Leaves from vegetables: celery, fennel, carrots, broccoli, cauliflower.
Stalks and stems from cruciferous vegetables: cauliflower, broccoli, and kale.
Extra herbs: that odd stem of basil or thyme.
Cooked vegetables: roasted potatoes, stir-fried green beans, oven baked fries.
How to use veggie scraps
1. Keep a scrap bag in the freezer for vegetable stock
Keep a gallon-sized freezer bag or another large container in your freezer, and fill it up with scraps for vegetable stock. Aim for three-plus cups of veggie scraps to cover with water and simmer on the stovetop or in the Instant Pot.
Scraps that make good stock include
Onion and garlic ends and/or skins.
Carrot, onion, and celery leaves and scraps.
Carrot, beet, squash, and zucchini skins.
Any parts of zucchinis, tomatoes, green beans.
Fennel parts.
Mushroom parts.
Bits of herb leaves and stems that were too small to save separately
BUT, reserve the cruciferous vegetable scraps (broccoli, cauliflower, kale, cabbage) for another use or their own separate stock. They make other stocks bitter.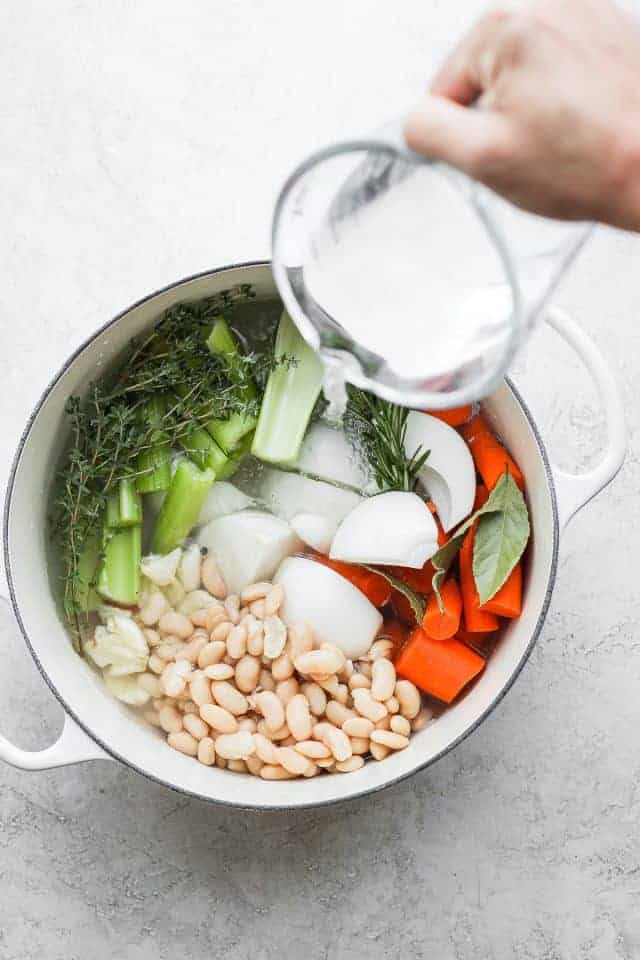 2. Add peels & veggie scraps to smoothies or make into snacks
We are used to peeling potatoes, cucumbers, and carrots and tossing the skins but they are chock full of nutrients and beg to be eaten
Mix carrot or potato peelings (those from russet potatoes work particularly well) with a few tablespoons of oil and bake in the oven around 425, add salt and spices like smoked paprika or celery salt for a crispy treat.
The well-washed skins and scrapping from carrots, beets, parsnips, peels, cucumbers, and the stems of kale are a great addition to smoothies.
3. Use leaves for garnish, blending or salads
Celery leaves can be chopped up and used like an herb (they are clean and mild-tasting) either to flavor salads or thrown into soups. I often put some in my bean or lentil soup after I've added the celery as garnish.
Carrot tops can go into smoothies, soups, or sub for herbs (like basil in pesto, or parsley in chimichurri sauce.) Or make your own green sauce with leftover herbs, carrot tops, leaves, garlic, and oil.
Broccoli, cauliflower, and beets leaves can all be treated like any bitter-ish green. Mix them into salad greens, soups, or stir-fries.
4. Save those stalks
Just because a recipe only calls for the florets or broccoli or cauliflower doesn't mean you should junk the rest of the stalk.
Take a vegetable peeler, shave off the stalk's tougher outside layers, cut the stalks into bite-sized piece, and use alongside the florets in recipes.
Shave the stalk and then cut the stems into celery- sized pieces to use on crudité plates.
Chop into any size you want and use in soups or make into fritters.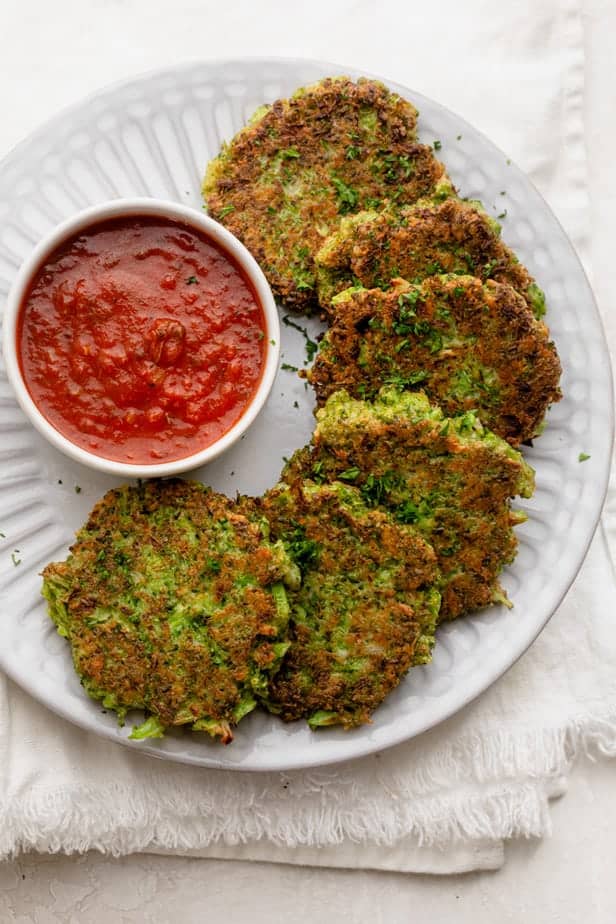 5. Mix leftover cooked veggies into a salad, salsa, or fritters
Cut the kernels off corn on the cob for salsas or quesadillas.
Top a green salad with cold, cooked green beans, cold roasted cauliflower or potatoes. They are pre-seasoned and delicious cold.
If you have a cup or more of leftover cooked veggies (including mashed potatoes or sweet potatoes) considered using as the basis for veggie fritters or shepards pie.
Add already cooked vegetables into soup in the last five minutes.
6. Feed your yard
And, for all else, compost! Composting keeps biodegradable food matter out of landfills. Save your veggie scraps (and eggshells!) and mix them in a bin or pit outside with brown material, defined as yard scraps like dry leaves or brown paper. It decomposes together and makes a nutritious spread for plants in your yard.
For more cooking tips and tricks
Eating every single inch of your vegetables is good for you and good for the planet. To read more about this and grab more ideas, check out this book on Cooking with Scraps (Amazon affiliate link).
If you find this Guide for Cooking with Vegetable Scraps useful, I'd love to hear from you! And if you snapped some shots of any of these tips and tricks, please share it with me on Instagram so I can repost on my stories!