This post may contain affiliate links. Please read our disclosure policy.
Shrimp Scampi gets a healthy makeover in this easy-to-make low carb weeknight meal. My version of the healthy shrimp scampi is full of healthy ingredients and packed full of the flavors of the traditional dish, but lighter in calories and fat.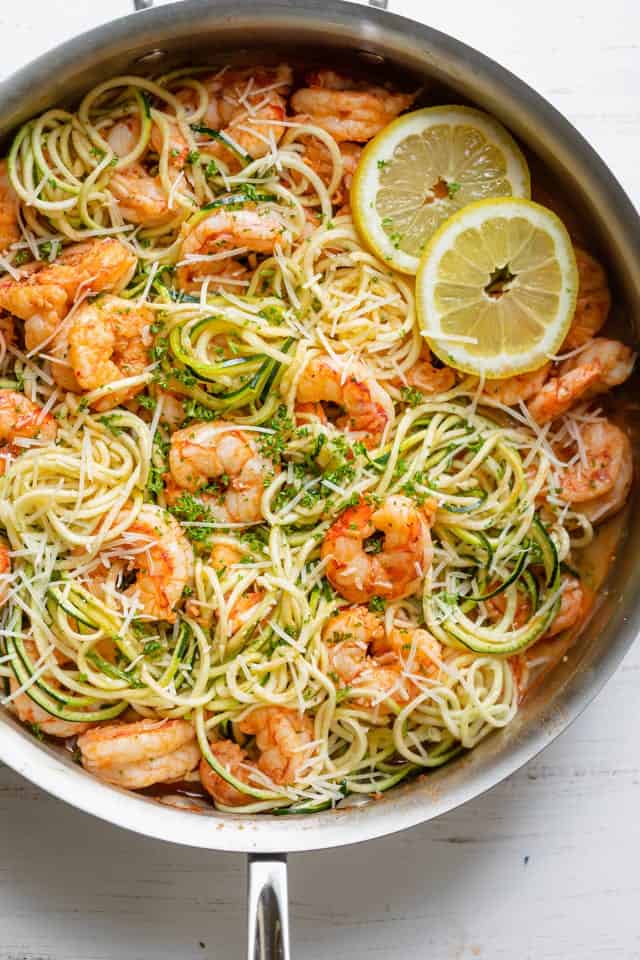 What is healthy shrimp scampi all about?
The traditional shrimp scampi is all about the combination of garlic, butter, shrimp and white wine paired with pasta. To make my healthy shrimp scampi, I still use garlic, butter and shrimp, but I cook it with vegetable broth and swap the pasta for zucchini noodles. So there are less carbs and calories overall. It still has the essence of the original dish with a lighter, fresher flair.
The dish comes together beautifully and quickly with shrimp and zucchini noodles instead of traditional spaghetti. It's low in carbs, high in protein and so simple to make anytime you're looking for a quick healthy meal with a bright taste.
And don't forget that shrimp is a healthy protein that's low in calories and has key vitamins (like B12) that our bodies need to feel good. So we're essentially just flavoring that shrimp with some butter and garlic, and tossing it with zoodles.
How to make healthy shrimp scampi
Making this healthy shrimp scampi involves two parts: 1) preparing the zoodles and 2) cooking the shrimp. Then it's about combining everything together and enjoying it pronto!
How to make zoodles
Zoodles is basically what happens when you use a spiralizer to make noodles from zucchini. You will need a tool like this spiralizer in order to shred the zucchini in a way that looks like noodles. Many gadgets will have various settings so you can select the size of zoodles you're looking for, from thin strands similar to spaghetti to thicker strands similar to fettuccine. You can also use a standard vegetable peeler, which will usually result in wider shaped zoodles
How to cook the shrimp
If you're looking for the best taste and texture for cooking shrimp, try my method. Start by heating butter in a pan, then adding minced garlic and crushed red pepper. This helps to develop the garlic and pepper flavor, while also infusing it into the melted butter.
When the garlic becomes fragrant, add the shrimp, and season with salt, pepper and paprika. Cook it just long enough for the shrimp to turn pink and opaque. You want to avoid the shrimp curling up too much, which means that the shrimp is drying out.
Here's what the shrimp will look like when you're done cooking it. You want it to look pink, plump and juicy without being too dry or shriveled.
How to finish the shrimp scampi
Now you want to remove the shrimp from the pan and set aside in a bowl while you make the sauce. When you do so, leave whatever juices released from cooking the shrimp in the pan. Then, add vegetable broth, red wine vinegar and lemon juice to those juices, scraping down the browned bits as you cook. Bring to a boil and then cook for a couple more minutes until the sauce reduces. That's your signal to add the zoodles and cooked shrimp back in the pan, and toss everything together.
Alternatively, you can keep the shrimp in the pan while you make the sauce, but just make sure to add the liquid earlier to avoid cooking the shrimp for too long.
When you add the zoodles and shrimp back in the pan, just give everything a gentle toss enough to warm the noodles and combine all the flavors.
After you finish cooking the healthy shrimp scampi, squeeze some fresh lemon juice on top to add a bright fresh flavor. And you can also grate some parmesan cheese on top.
Tips for making healthy shrimp scampi
Defrost the shrimp fully before cooking. It's hard to find wild caught fresh shrimp in Michigan, so I buy it frozen. If you're using frozen shrimp, thaw it with running cold water for a few minutes to remove all ice crystals. Then use a paper towel to dab it dry. This will limit the amount of water getting released when you cook the shrimp.
Prep the zoodles before cooking the shrimp. Even though the zoodles go in last, you want to have them prepped in advance to avoid leaving the shrimp in the sauce for too long while waiting on the zoodles. It's a quick cooking recipe, so it's best to prep everything first and then cook, versus prepping as you go.
Don't overcook the shrimp. The shrimp only needs about 2-4 minutes total of cooking time. Cook only long enough for the shrimp to turn pink and opaque. If you overcook them, they can become tough and chewy.
Use half zucchini noodles and half spaghetti. If you have picky eaters who are skeptical of the zoodles, try mixing them with spaghetti and peeling the green skin off the zucchini. This lets it blend right into the spaghetti, adding more vegetable servings without it being too obvious. I often do a 50/50 blend myself because I love having the mix of pasta and zoodles.
Frequently asked questions
How do you thicken shrimp scampi?
Usually once you add the liquid to the browned bits and bring to a boil, some of the liquid will evaporate leaving a thicker sauce. If you want to make it even thicker, you can add one tablespoon of flour to the sauce, or mix in a tablespoon of cornstarch thinned with a tablespoon of water. Keep whisking until the sauce thickens.
How many calories are in shrimp scampi?
My healthy shrimp scampi dish cuts down on a lot of fat and calories that are in the traditional version but with double the amount of shrimp. This recipe makes enough for six healthy servings, and each serving is about 250 calories.
What can you serve with shrimp scampi?
Because my shrimp scampi is served with zoodles, it is a really well balanced meal. For a bigger meal, you can serve it with a tossed salad or a side of sauteed greens. Garlic bread is always a good option too!
For more healthy pasta dishes:
This healthy shrimp scampi such a great dish for an easy and quick weeknight meal. Full of veggies and delicious fresh and summery flavors, this lightened up version that's loaded with "spaghetti-like" zoodles is a hit with the whole family!
If you've tried this healthy-ish feel good Healthy Shrimp Scampi recipe or any other recipe on FeelGoodFoodie, then don't forget to rate the recipe and leave me a comment below! I would love to hear about your experience making it. And if you snapped some shots of it, share it with me on Instagram so I can repost on my stories!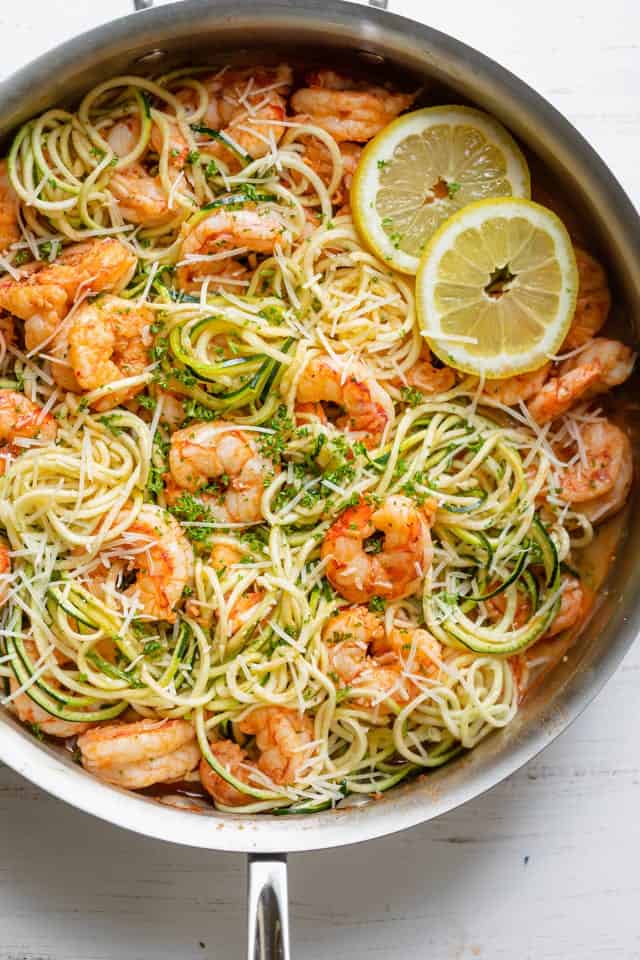 Healthy Shrimp Scampi with Zucchini Noodles
Healthy Shrimp Scampi combines the classic flavors of the dish with simple swaps like using zoodles zucchini noodles instead of pasta for a lighter meal!
Instructions
In a large skillet, heat the butter, then add the garlic and crushed red pepper and cook until fragrant, about 1 minute.

Add shrimp to the pan and season with salt and pepper and paprika; cook until shrimp turns pink, 2-4 minutes, depending on their size, and remove with a slotted spoon.

Add the vegetable broth, red wine vinegar and lemon juice to the sauce leftover in the pan, scraping the sides, and cook until sauce thickens slightly.

Turn off heat, then toss the spiralized zucchini with the shrimp to warm slightly. Serve with Parmesan cheese and fresh parsley, if desired.
Notes
Storage: Store any leftovers in an airtight container. They will last about 2-3 days in the fridge. However, the zoodles will absorb a lot of liquid by the second day, so it's best to enjoy this the same day
Nutrition
Serving:
1
g
,
Calories:
251
kcal
,
Carbohydrates:
5
g
,
Protein:
39
g
,
Fat:
7
g
,
Saturated Fat:
3
g
,
Cholesterol:
469
mg
,
Sodium:
1557
mg
,
Potassium:
478
mg
,
Fiber:
1
g
,
Sugar:
3
g
,
Vitamin A:
652
IU
,
Vitamin C:
29
mg
,
Calcium:
285
mg
,
Iron:
4
mg
Nutrition information provided is an estimate. It will vary based on cooking method and specific ingredients used.