This post may contain affiliate links. Please read our disclosure policy.
Throw a hot chocolate bar party! It's the perfect short and sweet get-together to end (or begin) an afternoon of sledding, snowman building, stargazing, or piling on the couch to watch a movie. Everyone gets to customize their drink with toppings and whipped cream.
What is a Hot Chocolate Bar?
This is inspired by a setup I saw while having brunch at a hotel, where an array of toppings and other goodies were arranged around an urn of hot chocolate. It made something pretty basic completely decadent. So here's my version!
how to set up a hot chocolate bar
First, pick a location: A kitchen island, counter or dining room table
Find a serving vessel: You might ladle directly from a Dutch oven on the stove, keep a batch warm in a slow-cooker or Instant Pot, or perhaps decant to a large tea kettle, insulated thermal carafe, or a plug in coffee urn. Work with what you have.
Make signs: For the hot chocolate, the toppings, and whipped cream, as well as dunkables like rolled wafer cookies and peppermint sticks. You can order hot cocoa kit with signs too.
Cups: Decide whether to set out mugs or go with insulated paper cups with lids.
Jars for toppings: Use jars or small bowls to fill with toppings and make sure each has a spoon or scoop. You can purchase generic plastic apothecary jars and decorate them with ribbons for Christmas. That way you can re-use for different holidays.
Spice shakers: For sprinkles of cinnamon, nutmeg, cardamom, and hot pepper.
Spoons for scooping & stirring: Gather your spoons and scoops, or invest in a box of wooden coffee stirrers or even paper straws.
Platters for cookies or pretzels and popcorn: A dunkable or little nibble with salt to balance all the sugar.
Hot chocolate recipe: Below is my basic hot chocolate recipe, which is scalable. If you are entertaining many, one batch could be cow's milk and another plant based. Or one batch plain and another flavored with cinnamon or other spices.
Decorate: Arrange your bar in a functional, eye-pleasing way. If you want, tie ribbons around the jars, and add seasonal touches like greenery or festive runners.
topping ideas
Chocolate: In many glorious sprinklable forms: sprinkles, shavings or gratings from chocolate bars, mini chips, or very finely chopped pieces of candy bars – think thin mints or heath bars.
Tiny, meltable chocolates: If your crowd is old enough to handle fairly hot hot chocolate and large pieces of chocolate, aka potential choking hazards, larger single-sized truffles or thin chocolate wafers can be put in the hot liquid to be stirred and melted.
Candy crush: Candle canes or other hard candies with flavors like coffee, cinnamon and honey can be smooshed into smithereens (use a baggie and something heavy like a rolling pin) and spooned on top.
Graham cracker crumbs: combined with chocolate and marshmallow for a s'mores flavor.
Stir sticks: Candy canes, peppermint sticks, or cinnamon sticks.
Creamy stir-ins: A spoonful of nutella swirled into hot chocolate could be tasty, as could some Fluffernutter.
Flavored powders: Instant espresso crystals for adults who want some mocha flavor and a kick of caffeine or malted milk powder for added richness.
Spices: Cinnamon and a pinch of cayenne makes a Mexican hot chocolate. Nutmeg is seasonal, and some might like a sprinkle of chai spices.
Whipped cream: The options are endless. A big bowl or plain or flavor a batch with peppermint extract, or a generous glug of eggnog or horchata.
Squeezable toppings: chocolate or caramel sauce in squeeze bottles for a final zigzag of flavor.
Flakey salt: Combined with some caramel for a salted caramel topping.
And of course, marshmallows: If you have an outdoor firepit, toast the marshmallows before hand. My favorites are mini marshmallows or marshmallow stirrers.
The kids will likely enjoy the toppings with the hot chocolate and on their own as well!
Companion Snacks
Dippable cookies: Plain shortbread cookies, or those rolled wafer cookies – piroulines or pirouette cookies – often served with espresso are good bets.
Churros: the natural pairing if you go with Mexican hot cocoa.
Popcorn: Something salty and savory to counteract the sweet cocoa.
Pretzels: More salt and the big sticks can be used to stir, as well.
how to make hot chocolate
Try this recipe for how to make hot chocolate but expanded for a crowd. It will make about 8 generous one-cup servings.
Pour the ¾ a cup water into a small saucepan and bring to a boil. Whisk in ½ cup ofthe cocoa powder and 4 tablespoons of cane sugar.
Turn the heat down to medium and whisk in 8 cups (one half-gallon) of milk. Cook over medium heat until the milk is heated but not boiling, about 3 minutes.
Mix in one cup chocolate chips and continue to whisk until the chocolate chips melt and the mixture smoothes out, about 2 more minutes. If you plan on offering guests other meltable chocolates in their drink, cut back on the quantity or omit
Take off the burner; stir in one teaspoon of vanilla extract and serve with your hot chocolate toppings.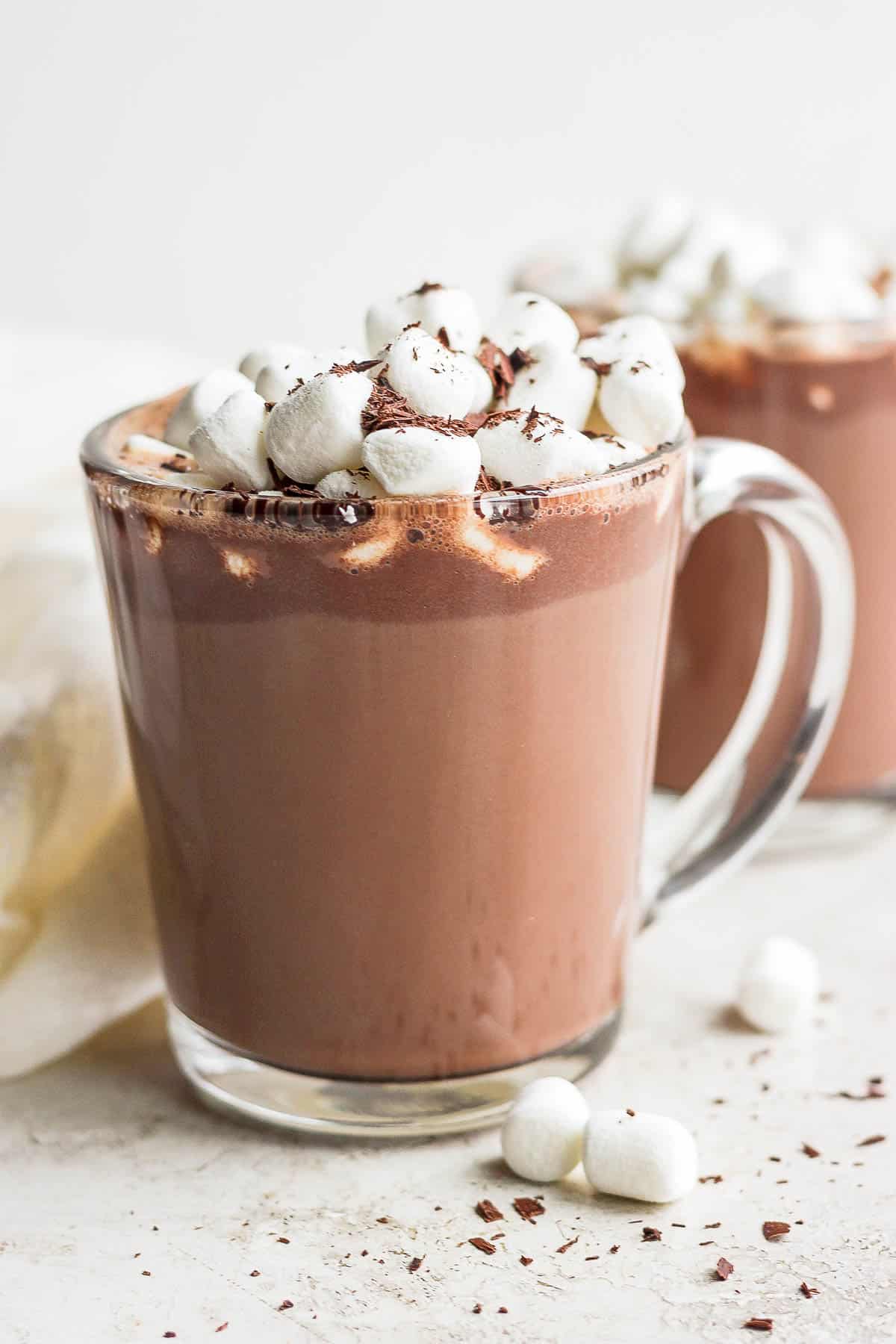 Whether you set out three mix-ins or 12, a hot chocolate bar party is sure to please a crowd and it's especially for kids during the holidays!
If you find this guide for Hosting a Hot Chocolate Bar Party useful, we'd love to hear from you! Please leave a comment below! It helps to create a dialogue with others who find this article. And if you snapped some shots of any of these tips and tricks, please share them on Instagram so we can repost on Stories!