From healthy breakfasts to delicious desserts, these super healthy grains are incredibly versatile in recipes. Here are 10 ways to use oats!
From healthy breakfasts to delicious desserts, these super healthy grains are incredibly versatile! Here are 10 ways to use oats, not just for oatmeal but so much more. Be it sweet or savory, snacks or desserts, oats take so many recipes to the next level, giving them amazing texture and flavor.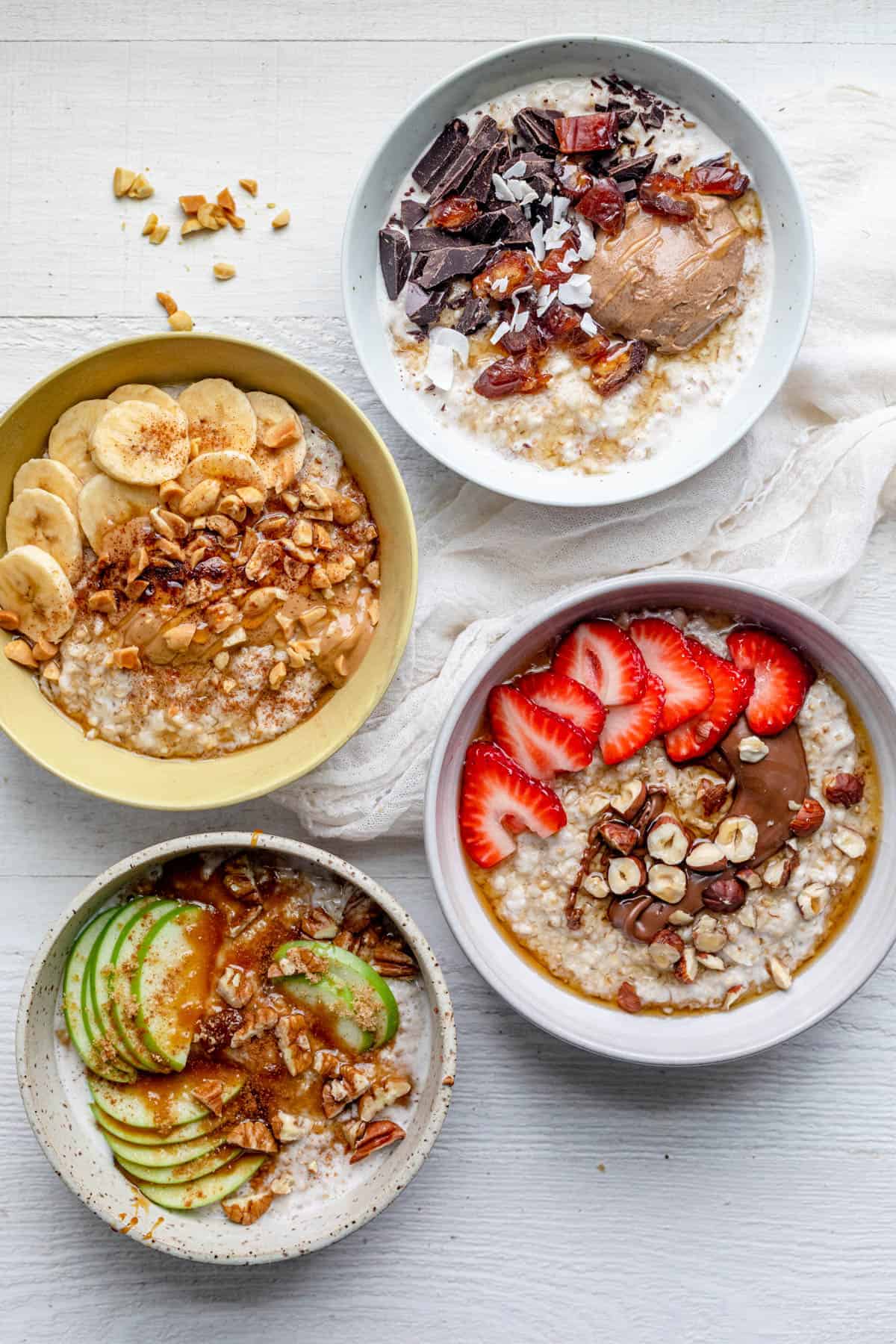 Oats are one of the healthiest grains and they bring a crunchy, hearty dimension to so many dishes. Not just for breakfast, oats can bind savory meals, bump up vegan recipes, make bread and so much more. These grains take on loads of flavor with a hint of toasted nuttiness, they really are the Swiss army knife of ingredients. Read on for 10 great uses for oats as well as some delicious recipe ideas.
Benefits of adding oats to recipes
Oats bring another layer of texture to recipes. From nice and chewy to satisfyingly crunchy, oats have a range of texture depending on the recipe, without taking away from the other ingredients.
They are very filling. Oats are a low calorie food, slowing digestion and makes you feel full for longer.
Oats can be an easy way to include healthy vitamins and minerals into your diet. They contain a wide range of nutrients like fiber, vitamin E, essential fatty acids and more. This makes them a very healthy grain. Oats also offer more soluble fiber and high-quality protein than other grains.
How to use oats in recipes
1. Oatmeal and overnight oats
Oatmeal is a popular breakfast for good reason. They are filling, adaptable and really set you up for the day ahead!
It's also an easy and versatile breakfast food that consists of oats and a liquid, such as water, or any milk and can be served hot or cold. Check out How to Make Oatmeal, for tips and cooking methods. You can also get creative with oatmeal and try Baked Steel Cut Oatmeal or Baked Blueberry Oatmeal.
Overnight oats is another way of preparing oatmeal. Rather than the traditional method of boiling oats, overnight oats are usually mixed with milk and left overnight in the fridge. Soaking lets the oats hydrate, absorbing liquid, ultimately, softening up, and forming a texture that makes for a delicious breakfast food. You can add in all kinds of yummy extras, like chia seeds, Greek yogurt, fruit, vanilla, flaxseed, or peanut butter, and you have yourself a tasty and healthy breakfast. Check out these Easy Overnight Oats to get started!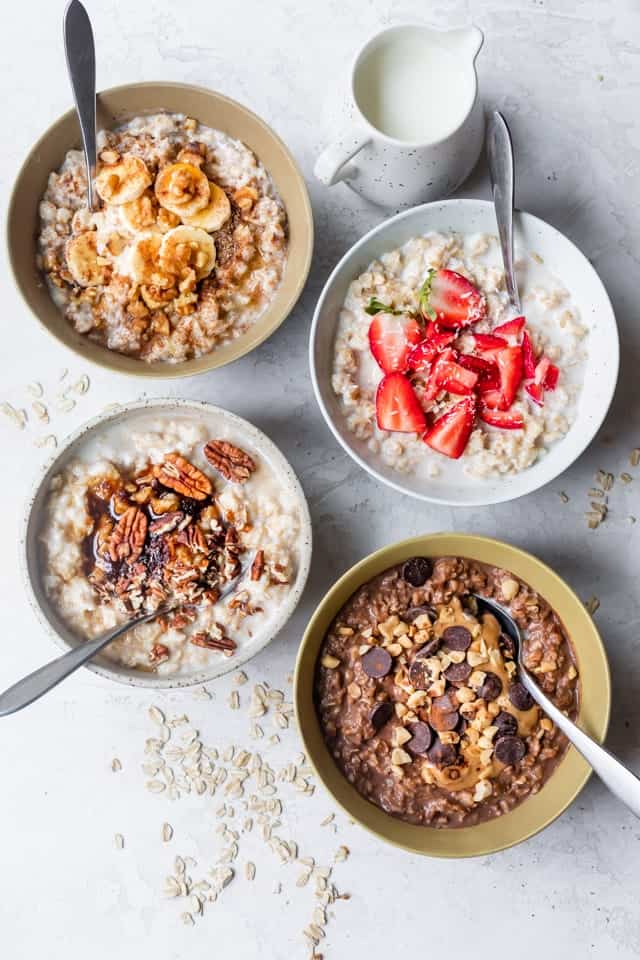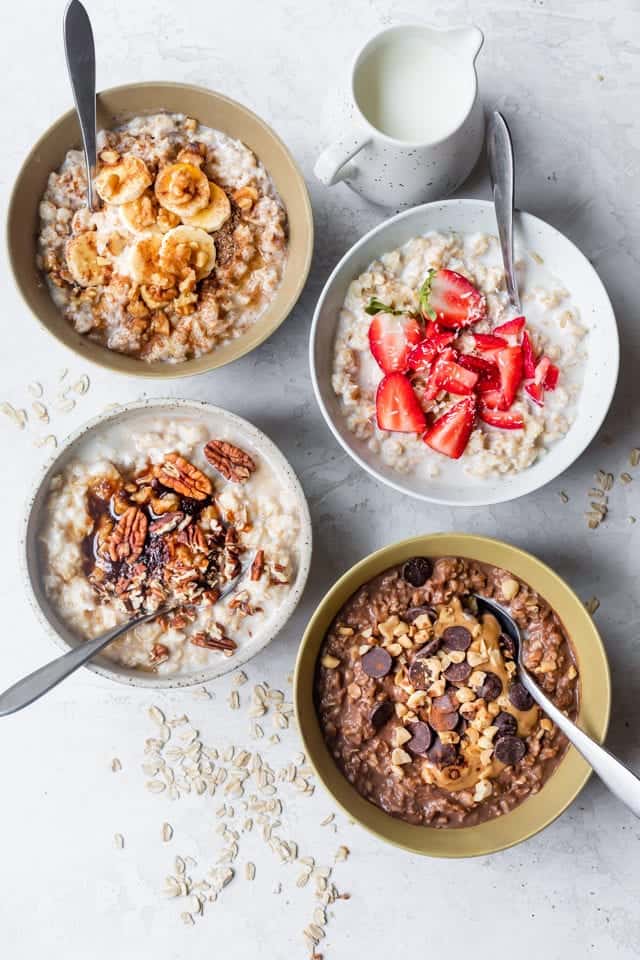 2. To make granola bars & granola
Granola is oatmeal's crunchy cousin! A crisp and hearty bowl of golden granola is bound to satisfy even the hungriest of appetites. Like oatmeal, granola is super versatile and packed with beneficial minerals and vitamins.
Granola is a toasted mixture of rolled oats, nuts, and a sweetener like sugar, syrup or honey. You can mix in all kinds of ingredients like other grains, dried fruit, puffed rice, spices, nut butters and seeds. Check out this easy Chocolate Granola for a simple and delicious granola recipe!
If you can make granola, then you can make granola bars. Granola bars are simply granola baked into bar shapes, super simple to make, they're an easy to way to satisfy your appetite on the go.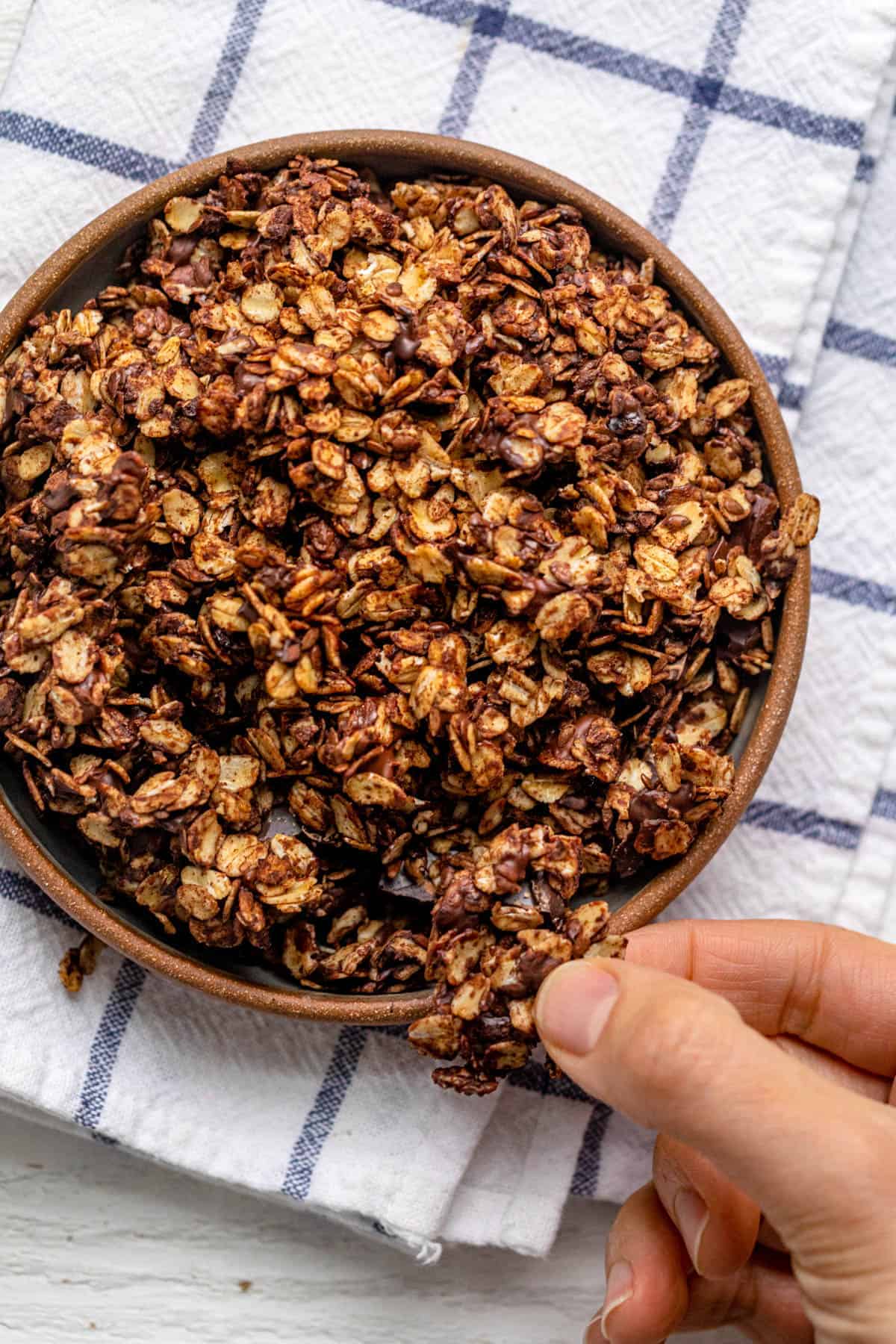 3. In baking breads and muffins
Oats add texture, fiber and a mild nutty flavor to baked goods. They are low in fat, cholesterol free and can help you feel fuller for longer. Muffins that use oats are a great snack or breakfast. These Healthy Banana Nut Muffins are loaded with oats and simple to make.
Oats are also awesome in cookies, giving you a wonderfully hearty and chewy bite. Oatmeal cookies are so versatile, try out these Chewy Oatmeal Raisin Cookies or these Oatmeal Cranberry Cookies!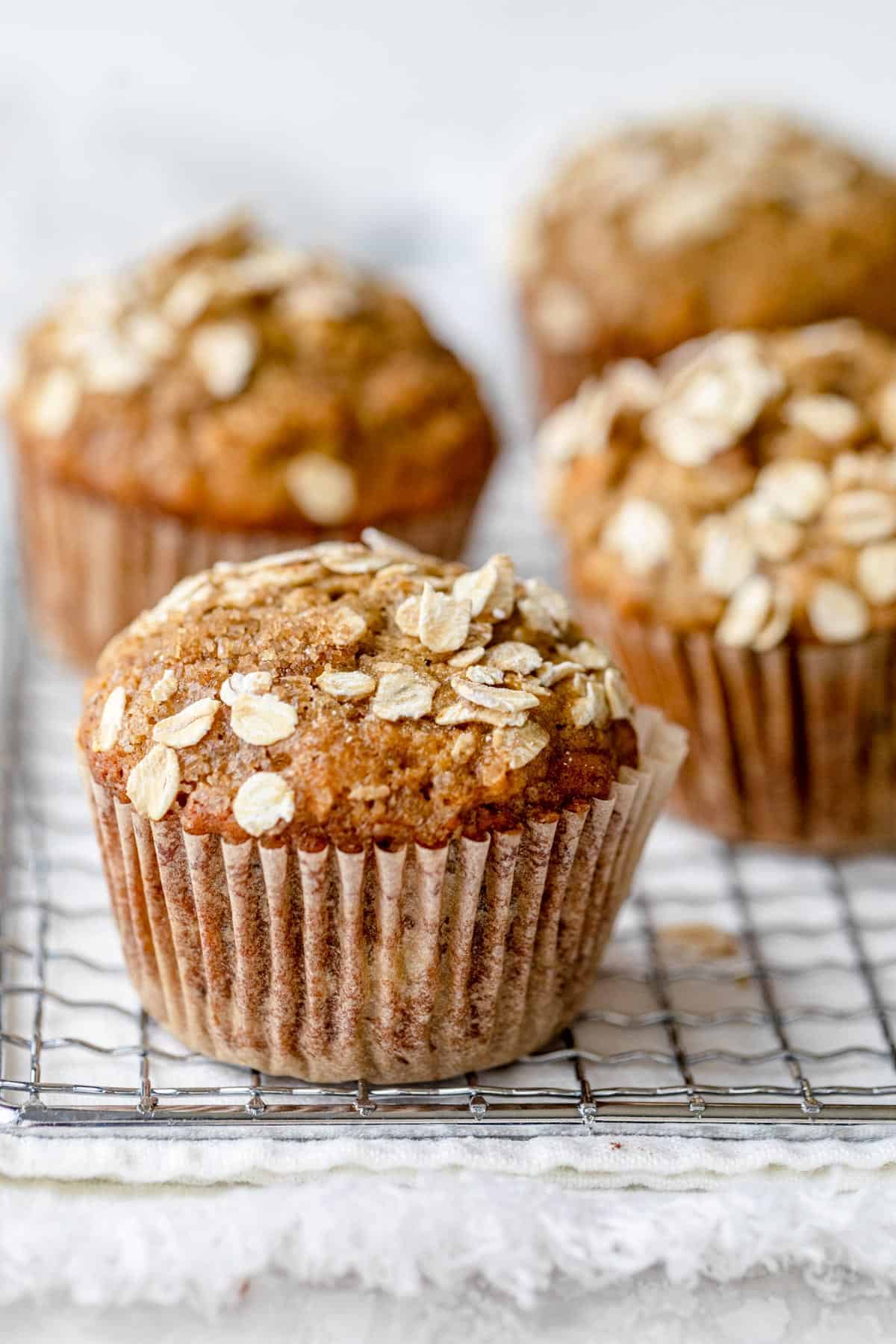 4. In desserts
Oatmeal makes a delicious addition to desserts, due to its chewy texture and nutty flavor. From Pecan Date Bars to Mixed Berry Crisps, there are so many wonderful oatmeal dessert recipes, a hearty sweet treat to please everyone!
Desserts with oats are also a great way to sneak in more fiber into your diet!
5. To make crumble toppings
Crunchy crumble is the perfect topping for ice cream sundaes, fruit crumbles, crisps and casseroles. The crisp texture compliments fruity fillings and ice cream so well. Oats bring a great taste and a crunchy texture that contrasts with the sweet and smooth fillings. Plus they pacs that nutrient rich punch!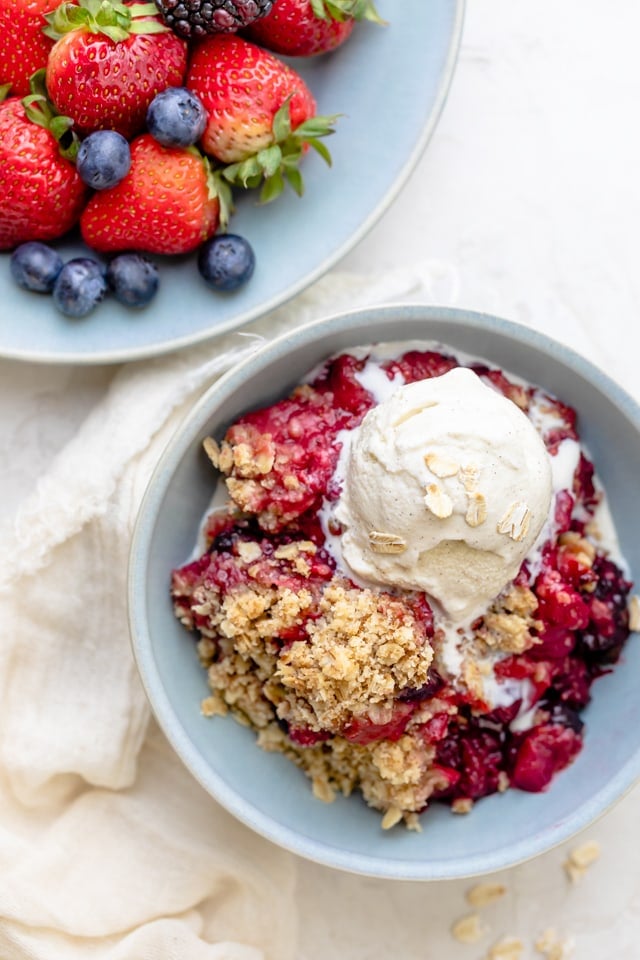 6. To thicken smoothies & smoothie bowls
Oats are a seriously underrated smoothie ingredient! They are perfect in smoothies and smoothie bowls because they add heft, fiber, and make smoothies satisfyingly thick and super filling. For a delicious way to power up for the day try this Peanut Butter Banana Smoothie.
Smoothie Bowls are another great way to bring oats into your morning routine. They're a lovely thick blend of whole foods, such as frozen fruits, veggies and other healthful mix-ins (like yogurt or avocado).
7. To make energy bites
Oats are perfect for energy bites! Oats breaks down to become energy, which is slowly absorbed by your body. This means these grains are an awesome addition to energy snacks. Combine them with all kinds of protein packed ingredients for an all round punch of power! These No Bake Energy Bites are easy to make and perfect to give you that boost you need.
If you want a vegan energy bite, try these Vegan Protein Bars – delicious!
8. To make a vegan crust
Hearty, with an almost cookie like flavor, Oat pie crusts are great for vegans, they're also gluten-free and nut-free, making them an allergy-friendly option for you and your guests. But of course it's not just for vegans, especially if you're tired of the same old graham cracker crust!
9. To make bread instead of flour
Oat Flour is a gluten-free form of whole grain flour which is made from old fashioned oats or whole oats that have been ground into a powder-like consistency. It's a great alternative to wheat flour and so easy to make too!
Not only is oat flour loaded with antioxidants, it also has more protein than most traditional flours, and up to 8g of fiber per half-cup serving.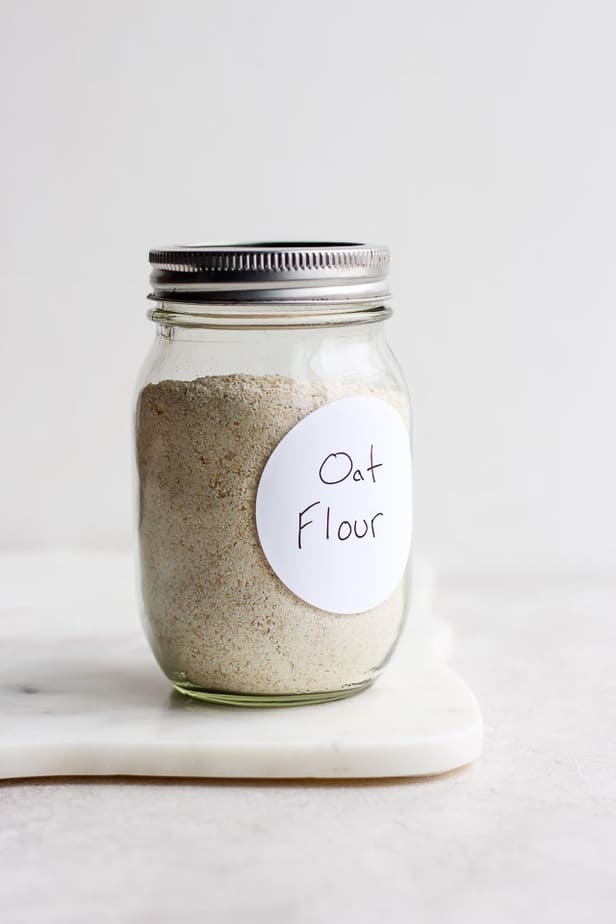 10. To bind savory meals
Oats can be used as a great way to bind loads of meat and even veggies meals. They can often be used to mix in with your ingredients, instead of eggs.
Oats are a great way to bind meat or veggie burgers, just throw in a handful of oats to add a wonderful texture and binding power to the burgers. The oats help the burgers set, making them less crumbly and more tender. And of course oatmeal is great in Meatloaf, a classic comfort dish!
More recipe roundups to check out:
If you have tried any of these Oat Recipes or any other recipe on FeelGoodFoodie, leave us a comment below! We would love to hear about your experience making the recipes. And if you snapped some shots of it, share it with us on Instagram so we can repost on stories!