From fantastic finger food to palette pleasing party platters and easy dips, check out my top picks fo healthy holiday appetizers to try out!
'Tis the season for lots of yummy bites! The holiday season can make you feel like giving into less healthy food, but it doesn't have to be that way, far from it! From fantastic finger food to palette pleasing party platters, read on for 12 Healthy Appetizers that are packed with goodness and loaded with flavor!
The holiday season can be packed with parties and family gatherings. These Healthy Appetizers offer up a rainbow of bite sized bounty that'll be sure to please the crowd. Below you'll find make-ahead appetizers, delectable dips, healthy finger foods, and loads more.
Tips for making healthy appetizers
Make veggies the star of the show! Less than a quarter of all adults eat the recommended amount of vegetables, and 18 percent eat enough fruit. Veggies are versatile, inexpensive and perfect to top a whole host of appetizers. Pair up veggies with a wide range of healthy dips, win-win!
Pick whole grains over refined grains. Whole grains like brown rice and bulgur have their bran intact and therefore have more fiber, B vitamins, magnesium, zinc and other nutrients.
When it comes to salt, go low…sodium! Dipping sauces like soy sauce can pile on that salt, opt for lower sodium versions.
Opt for leaner proteins, like fish and chicken when making your apps. You'll get a satisfying bite with less fat.
Healthy appetizer recipes
Finger foods
These hand held bites are made for party snacking, from protein packed shrimp appetizers to lip smacking veggie nibbles, these apps will keep people satisfied without weighing you down.
This Air Fryer Coconut Shrimp recipe is like your favorite restaurant style version but only healthier because I skip the heavy oil and deep frying method
Zucchini Tots are a low-carb alternative to classic tater tots made with potatoes. Baked in the oven, they're cheesy, tender and perfect for light snacking!
These cheesy mushroom tartlets are the perfect appetizer for holiday parties – made with onions, mushrooms and cheese on top of a buttery flaky mini pastry!
Dips
What does a party love? Dips, dips, dips! Easy to whip up a big batch and you can load 'em up with all kinds of healthy goodies. Serve with whole wheat pita chips, crackers or crunchy and vibrant veggies to keep things healthy. Read on for some delectable cold and hot dips!
Homemade Ranch Dip made with Greek yogurt, dill and chives is perfect for dipping carrots, cucumbers or chips – healthier than store-bought!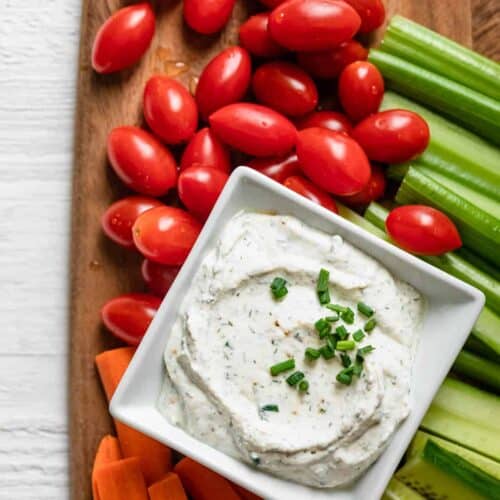 This avocado hummus is a modern twist on plain hummus and guacamole – a healthy, vegan, easy snack or appetizer with pita or veggie chips!
This Lebanese inspired Baba Ganoush is made with only 4 ingredients: oven-roasted eggplant, lemon juice, tahini & garlic – a great alternative to hummus!
Total Time:
1
hour
5
minutes
Flatbreads
Flatbreads are made for sharing, and you can top these healthy appetizers with all kinds of scrumptious ingredients. Get creative this festive season with some fantastic flatbreads!
This Pesto Tomato Flatbread combines the fresh flavor of homemade pesto with creamy ricotta cheese, tomatoes, olives and zucchini on a crispy bread!
Zaatar Manakeesh is a Mediterranean flatbread that's made with dough and zaatar spice. It's an easy recipe to make from scratch using very few ingredients!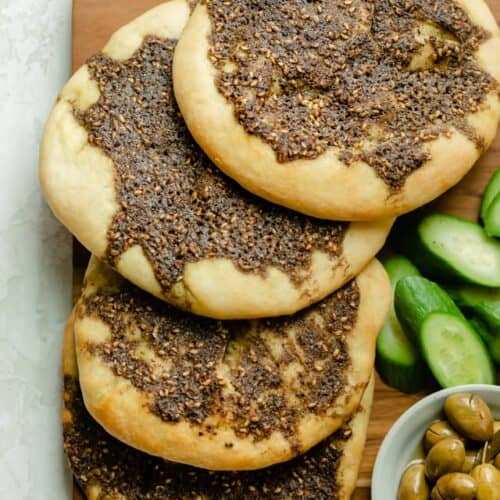 This Lebanese style chicken shawarma pita pizza is made on a grilled pita bread and topped with juicy, tender, well-seasoned chicken, veges & tahini sauce.
Boards and Platters
Platters and boards look gorgeous and create a lovely center piece to a party spread. These healthy appetizers are super versatile, you can mix up all kinds of proteins and veggies for the ultimate wow factor.
This Christmas Tree Vegetable Platter is an easy, fun and festive appetizer or snack to serve during the holidays. It's quick to make and great for parties!
This Baked Brie Recipe is one of the easiest appetizers you can make for the holidays – it has an impeccable presentation with your favorite nuts and fruits
For the Christmas holiday, this crudite platter wreath offers guests a festive healthy beautiful platter filled with vegetables and a homemade ranch dip!
More great recipe collections to check out:
If you try any of these Healthy Holiday Appetizers or any other recipe on FeelGoodFoodie, leave me a comment below! I would love to hear about your experience making the recipes. And if you snapped some shots of it, share it with me on Instagram so I can repost on my stories!